It's late. I've been crocheting. I found a new site:
http://www.ravelry.com/
LOVE IT!
Anyways, I want to crochet THIS for my new upcoming baby.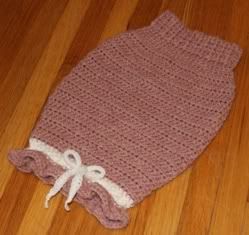 I can't find a pattern: free or otherwise, although obviously I would prefer free. HELP ME!
Anyone have any ideas? Have you seen the newest Sleep Sacks? I've seen plenty of knit versions, no decent crocheted ones. The one in the above picture was made up as a momma went along, 'cause she couldn't find a decent pattern either. Unfortunately, she hasn't posted her pattern (not sure she even could write it down). Bummer....
I want one that goes up under baby's arms (not with sleeves or suspenders), then is just a basic bag, with a drawstring at the bottom for diaper changes. I *love* the knit version.....I need to start designing my own crochet stuff......a lot of crochet patterns are just so.....old!
Ok, thanks for listening to me vent. I did crochet up some cute little.....oh wait, I can't say. I'll tell ya later~ 'night!
p.s. Oh, I must give credit where credit is due. This whole "baby sleep sack" search arose from viewing this
marvelous pic
of new baby Harper.
Congrats SouleMama!!