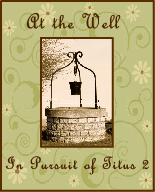 I found a new site ~ wanna hear about it??
Actually, I don't know all that much yet myself - but it looks interesting. Here's a bit from their "about the well" page:
Our communities have grown and we are spread out. Technology has discounted the need for a well to draw our water. However, it is still possible for us to meet
At the Well, in true Titus 2 form. It has just now become a virtual well.
This site is having a "Grand Opening" at their new site, on Monday, February 2, 2009. They are also giving away some great 'door prizes':



A brand new blog facelift valued at over $50 donated by Doodlebug Designs




A custom blog card (or mom card, if you don't blog) design, valued at
$30. You'll receive a high quality .jpg, .png or .pdf file – you can do the
printing yourself or have them printed online or locally – the options are
endless. Print only as many as you need!The file is yours to keep.donated by Simply Amusing Designs




"Fill 'Em Up!" ... a "cookbook" for parents to use with kids which includes a
devotional/Bible study that goes along with each recipe.donated by Heavenly Homakers




A signed copy of the book "The Devil in Your Garden"donated by
Natalie Witcher from I AM not)




A digital scapbook dowload package donated by The
Digital Scrapbook Place




A $25 Starbucks gift certificatedonated by At the Well
Sounds great, huh?? (I'm especially lovin' the "blog cards").
So now, head on over there and check it out for yourself. You too can enter to win one of these great door prizes, plus just maybe find a great new resource on the web! Cool~