Hey, I found this pretty cool (thus far, anyway) education site to help with the kiddos SPELLING!
It's called
SpellingCity
! There's a free version (which is what I went for, of course), plus a premium membership - which I just didn't think I needed. I registered, set up my main page (as a parent - you can do this as a "teacher" - I'm gonna look into that option), then began typing up and saving a few spelling lists.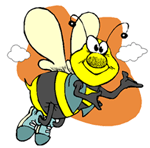 **by the way, I just looked online for free grade level spelling lists. I could grab vocab words from whatever we are working with, if I wanted to, but this is just a quick, easy way to handle it for now. I grabbed my lists from
HomeSpellingWords
- they have lists from first grade through seventh, with anywhere from 20-31 lists depending on which year. First grade (the one I'm using) has 24, I believe.
This site starts with very basic words (First Grade, List 1), such as "an", "add", "had", "man" all labeled as BASIC. Yet it also has CHALLENGE words such as "Halloween", "pumpkin", "October" and "animal" (I'm guessing you're supposed to start this list in the fall, eh?).
So anyway, back to
SpellingCity
.....the kids pull up the site, login (I taught 'em how), pick what list they are on and then they can do three things: 1) TEACH ME - spelling, pronunciation, and in a sentence, 2) PLAY A GAME - 12 different games, using your list words, going over things such as spelling, vocabulary & alphabetical order and 3) TEST ME - which goes over any missed words, allows retakes, and then offers for you to print a report or a certificate. And this is all on the free membership (premium membership has some different game options, allows you to save your students scores, etc.)
Ok, so there ya go - my commercial for
SpellingCity
! I'll let ya know how things are going in a few weeks....